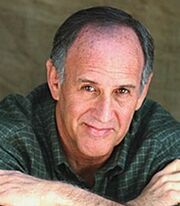 Steven M. Kramer
(AKA
Drew Thomas
) (born December 24th, 1950 in San Juan Capistrano, CA, age 66) is an American voice actor and husband of voice actress Melora Harte who played 
Wilde Wolf
in the English dub of
Maple Town
.
He is most known for his roles in the Power Rangers series and in other English anime dubs such as Bleach, Eureka Seven, and Naruto.
He and Reba West played roles in another Saban-dubbed anime called Grimm's Fairy Tale Classics. He played as The Big Bad Wolf in said anime. Interestingly, his characters were both villainous wolves in GFTC and Maple Town.
Ad blocker interference detected!
Wikia is a free-to-use site that makes money from advertising. We have a modified experience for viewers using ad blockers

Wikia is not accessible if you've made further modifications. Remove the custom ad blocker rule(s) and the page will load as expected.